Increase the SEO Value of Your Blogs with Video!
So you've written a blog post. Now what? Optimize it by adding explainer-style video!
How Our Blog-to-Video Service Works
We produce a professional, branded video summarizing your existing blog
We upload the video to YouTube and embed it in your blog post
You tap into a whole new traffic source!
Video can be time consuming, expensive and difficult.
We have spent years building an in-house team to produce a service that converts blogs to videos at scale, meaning it's affordable and accessible to you!
Don't get left out, video is king, and you need it to compete!
Maximize your existing blogs and get more search traction on Google and YouTube.
Video Content Is In Google Search Not Just YouTube
Video is increasingly being served in Google search. Currently, there are three ways videos appear on Google; on the main search results, in the Videos tab, and on Google discover.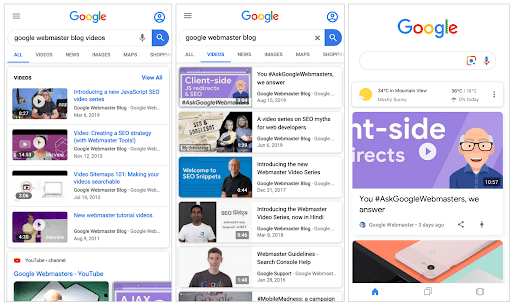 Three Affordable & Easy Blog-to-Video Options
90 Second Video
Ideal for YouTube
Suitable for long posts

Script Included

Professional Voiceover

Branded animation

Includes 1 minute cut down for social media use

Only $750 per video based on subscription of 1x month for 12 months
3 Minute Video
Ideal for YouTube
Will cover all points

Script Included

Professional Voiceover

Branded animation

Includes 1 minute cut down for social media use

Only $950 per video based on subscription of 1x month for 12 months
1 Minute Video ADD ON
Great for Social Media
Intro / Summary video cut down

Script Included

Professional Voiceover

Branded animation

Only $250 when added onto our 90-Second or 3-Minute videos
How RSM Blog Videos Work
1. The Scriptwriting Stage
Simply provide us with your blog post URL. One of our writers will take your existing blog and create a 3-minute, 90-second or 60-second script from it. Depending on the length, this may be a summary/intro or more in depth.
2. The Voiceover Stage
The script is read by a professional voiceover talent. You can choose between male or female. The voiceover will have a casual but professional and clear tone, perfect for blog posts.
3. The Animation Stage
After the voiceover has been recorded, our animator will create a professional, branded video, highlighting important points with simple and clean iconography and slides. Perfect to upload to your website and social channels.
4. The Implementation Stage
When the video is complete, about 2 weeks after you share your blog link with us, we upload it to your YouTube channel. When uploading, we include the appropriate keywords and structured data to ensure maximum SEO impact. Your video will also be embedded in the original blog post.
Super Easy
Simply supply us with existing blog posts, we do the rest.
Professional
No whiteboard animations or clipart. We keep it clean and professional.
Scalable & Accessible
The scalable and accessible way to get your message into video..
Attract New Traffic
Tap into new traffic channels from video and social by repurposing existing content.
Branded
We follow your brand guidelines. We will match colors and fonts in the video, making it seamless with your website.
Can I review the Script before production?
Yes, for accuracy only. We ask that you limit your script review to accuracy and not changes in style or voice or range of content. The goal of this service is to keep costs low and turnarounds fast. Rest assured, there will be no surprises in the script, as we are simply taking elements from your already written blog post.
Can I make changes?
Our blog to video service is designed to be hands-off, hassle-free, and predictable. The animations will be clean, professional, and branded, and the wording will be taken from your pre-existing blog posts. Revisions are usually very rare, but if anything is unexpected, simply email our Producer with any changes and we will have the video updated for you.
Can I track performance?
In Google Search Console, you are able to see how your videos perform by going to the Performance Report and clicking Search Appearance. If you want to go into more detail, you are able to also check the keywords your Videos appeared for and the specific pages that appear. If you already work with our SEO team at RSM Marketing, these will be included in your SEO performance reviews and dashboard.
Send Us Your Blog Link and We'll Get Started!
"*" indicates required fields